Love is a great word. We love love. We love the idea of being in love. We love the romantic walks, the expensive dinners in dim restaurants, the gifts in velvet wrapping. We love the newness of love- the mystery of this person who fawns over us. We love the pretty pictures of couples walking across bridges under starry skies.
But that's only the very top coating of love. It's like the sprinkles that rest on the icing of the cake. That kind of love is only the clouds when you're looking at the earth all the way down to the core. I'm all for those things but they don't last long and you can't build anything on clouds or sprinkles.
Love is work. Love is choosing. Love is a verb that you have to live out every day. Love isn't a feeling. Love isn't money. Love isn't happy pictures or expensive gifts or delicate dinner parties. I've discussed this in regards to marriage. But what about our children?
Sometimes I think I'm good at love because I feel these emotions welling up inside me about my children.
"Look how adorable they are."
"See how cuddly he is right now."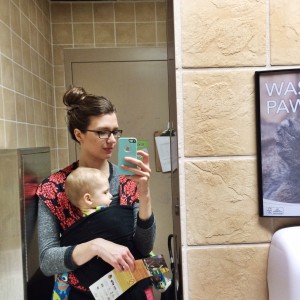 "They are hilarious."
"I can't imagine my life without them."
That's not love. Those are momentary emotions when my kids are pleasing me. Those are emotions evoked by something I find charming or valuable or by the fact that they are sleeping. Those feelings aren't love.
All I have to do is read 1 Corinthians 13 to find out what love really is. Go read it now. Really, I'll wait here.
God describes love in ways that we might not. That chapter makes me cringe because I don't love like that. I'm not going to talk about the whole chapter because that's too much to work on. Besides I never get past the first descriptor of what love is before I feel convicted.
Verse four says, "Charity suffereth long, and is kind;"
Um…I don't suffer long with kindness. Our pastor has taught us about longsuffering: longsuffering is cheerful endurance. I don't have that. You know how I endure? With eye rolling. With a sigh. With a louder-than-necessary footsteps. I endure with raised voice, with a desperate cry of "What do I do with these children, Lord?" I endure in a way that lets everyone know that I feel put-out, that I carry a heavier load than most, that I am such a saint for the work I do.
Except I'm not.
Of course it often feels like all of those things. Have you ever spent all your days with children? (Or whatever you do probably- it's not just children.) If you are trying to train your children then you are constantly correcting, constantly affirming, constantly pulling the baby away and saying, "no-no." You spend your days trying to get anything done while making sure that you're including your children in the laundry and the cleaning and doing kindergarten. You are trying to be sure that you're snuggling the baby and reading the stories and potty-training. It feels like a massive amount of work to be accomplished while doing three other things at the same time.
(I've heard from older moms that this is the hardest stage. When your oldest is still young and you have several smaller and you're just finding your footing with motherhood and schooling and any other work you're doing. That's relieving to know.)
What's more relieving is knowing there's a purpose. I like there to be a point. I want to know the why. When I know what I'm going to work on it's easier to force myself out of bed before the boys get up. And when I know the end goal I can better teach and train my children.
My end goal is men of faith and character. I actually pray that phrase over my boys. I want them to be men of faith- to love God and desire to please and serve Him with their lives. I also want them to be men of character- to work hard, treat others well, be honest and truthful.
Sometimes though, the end goal isn't enough. I have to have a daily goal and I've found two.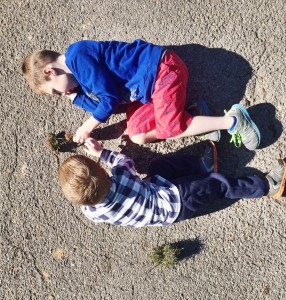 1. This work is making me more like Jesus. As I die to self, as I stop the eye rolls, as I lower my voice and smile at my children, I am learning self- control. I am learning to act like Jesus when I'd rather stomp my foot and pout because my children are difficult. This work is training me perhaps even more than I'm training them.
2. This work allows me to show my children Jesus. That will get us to the end goal. When they see a faith that is real and practical, a faith that changes mama, they will want that same thing. I never want my life here in our home to turn my children off from Jesus. When I do my work in this way, I am truly loving my children. And I can do that even when I don't feel the gushy emotions caused by adorableness and hilarity.
My children need that love. Even when I want to pull my hair out I need to work toward that.
So if you are in the same place, take heart. That desperate work isn't without purpose- both for you and for them. Jesus is near and He's working in your life through piles of dishes and laundry and the (sometimes) difficult children.