Reading: Anna Karenina. I'm 600 pages into this 800 page book and I'm determined to finish it before classes start on the 26th. I am really enjoying the story and curious how it is going to end. It's not the same kind of enjoyment as I got from Cloud Cuckoo Land or Project Hail Mary or The Girls at 17 Swann Street so I've also decreed that I can't return to the library and be around other novels until this is finished. I'm also trying to forget that this is sitting on my shelf.
Watching: The Rings of Power. You can see my review of the first two episodes here. I finished Episode 3 last night so I'm ready for 4's release today. I even wore my Lord of the Rings shoes to dinner with a friend this week. 
Listening to: This episode of Truth's Table with Morgan Harper Nicols and Andre Henry. This was a delightful listen as they both discussed their own creative processes. Special heads-up to the end when Henry talked about a theology of creativity. 
Cooking: I'm anticipating a return to soup and chili and cornbread, pot roast and bowl dishes. I've made curry all summer but it's still included in this list. This is my favorite recipe for cornbread now. 
Acquiring: I'm starting an internship and need office clothes so I bought a few intentional pieces (a black sweater, a white Oxford, a pair of versatile pants, and so on. I am sending this back though). As I've gotten older, I've learned that I prefer a capsule wardrobe. I don't want a lot of choices. I want well-made pieces that I love and will last a long time. I'm aiming for most of my clothes to be ethically-made. Able is the first place I look because I love their style and the fit of the clothes. Everlane is next. And for jeans, I love Madewell though I find their sizing to be tricky. I will occasionally supplement with something from Target. I have a chambray shirt of theirs that I love and I have worn two pairs of shorts from there all summer.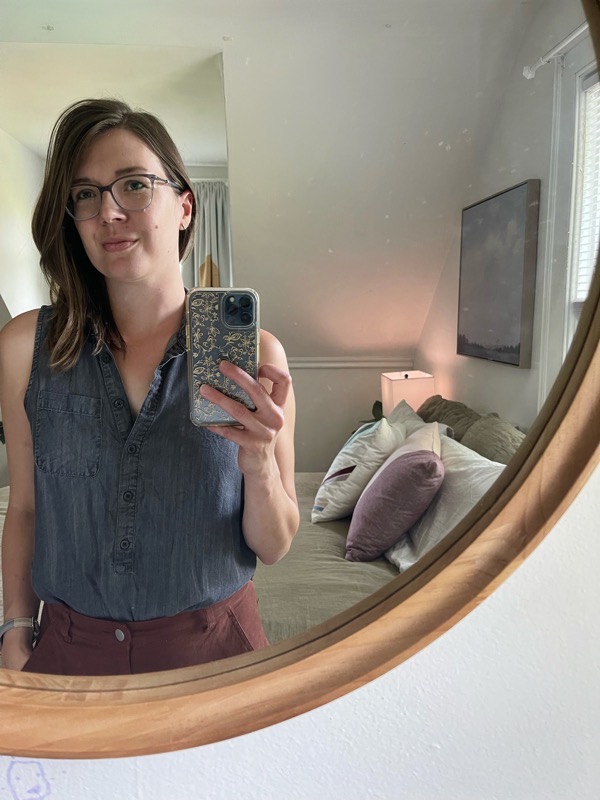 When I'm not sweating through anything on my body in the summer, I enjoy clothes. My friend keeps sending me TikToks that help millenials keep their clothing updated. This is the service we need from the internet.
Anticipating: Taylor Swift's new album. I remember listening to Swift's first album in college and Folklore and Evermore were favorites of the pandemic.